Crawford Brothers had a roller coaster of success at Balmoral Show
We had 17 Limousin cattle at the show, clearly the largest exhibitors there, and we were flying the flag for both Northern and Southern Ireland.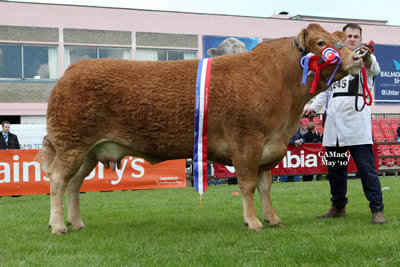 Colonlara Valance
From our farm in Clones, for the first time we had 6 cattle, which lifted two first prizes, 2 seconds and a third, then went on to take the championship in the points section of the entire Limousin breed with our Northern herd taking second place.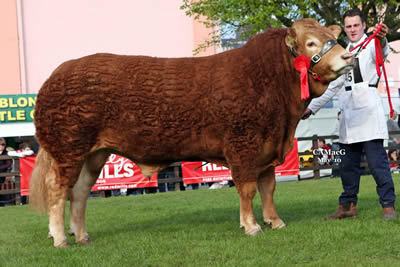 Sylvandene Defoe - Our new Junior Stock Bull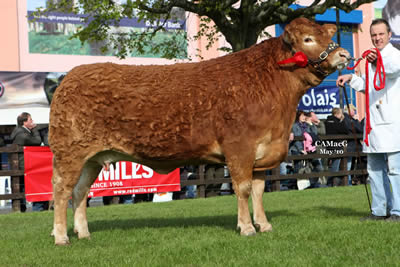 Sarkley Bikita
Our cow Colonlara Valance took first place in the cow class, female champion and overall limousin champion and three hours later went on to win the overall interbreed of the show - a first for Crawford Brothers, and to do it also when we are celebrating 30 years in breeding and showing pedigree Limousin's was the icing on the cake for the family.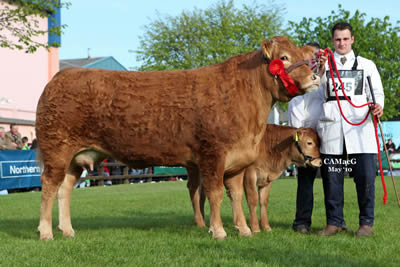 Finisklin Ciera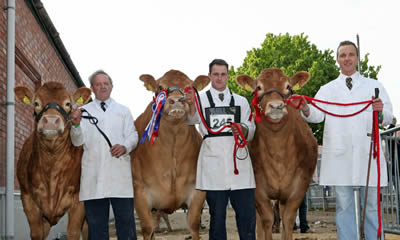 Champion Group of Three from one exhibitor
The next day Colonara Valance and our young bull Sylvandene Defoe who came first in his class, and will be heading to the Royal shows across the water before finally ending up in the Cogent semen collection centre in the autumn teamed up with William Smyth to take the Interbreed Group of Three.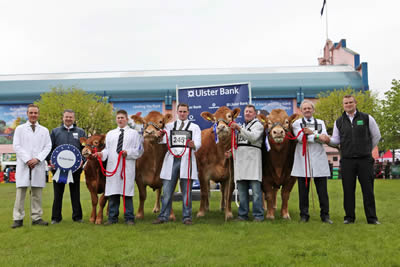 Interbreed Champion Group of Three, l/r Raymond Crawford, Ulster Bank Rep Jonathan Mulligan, Stephen Crawford, John Smyth, Herbie Crawford with Pearce Hughes, Asda who sponsored the award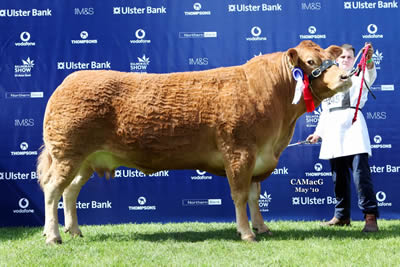 Colonlara Valance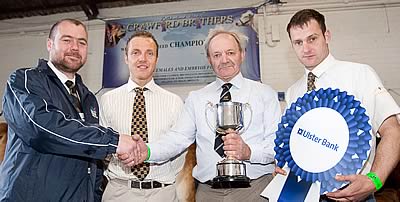 The Crawford family being presented with the trophy for the most points in the Limousin section
Show Results for our two herds
Class 511
2nd
191 Connans Farm
Erne Euphoria
4th
200 Crawford, Mr Raymond
Erne Emily
Class 512
5th
210 Crawford, Mr Raymond
Erne Elaine
6th
218 Crawford, Mr Raymond
Erne Eclies
Class 513
2nd
224 Connans Farm
Sylvandene Duchess
5th
228 Connans Farm
Erne Dianna
Class 514
3rd

235 Crawford Brothers
Sarkley Daisy
Class 515
1st

241 Crawford Brothers
Finisklin Ciera
2nd
243 Connans Farm
Curraghree Collette
Class 516
1st
245 Crawford Brothers
Clonlara Valance
Class 517
1st
249 Connans Farm
Sarkley Bikita
2nd
244 Crawford Brothers
Ravissante
Class 518
4th

253 Crawford Brothers
Erne Eric
Class 520
1st
276 Connans Farm
Sylvandene Defoe
Class 523
1st
241, 244 Crawford Brothers
Finisklin Ciera & Ravissante
3rd
224, 243 Connans Farm
Sylvandene Duchess & Curraghree Collette
DUNBIA BEEF CHAMPION OF CHAMPIONS
SP:Crawford Brothers, Maguiresbridge
SPECIAL PRIZE £200- for the best Group in the Beef Group Competition. Reserve Prize, £100. Additionally £100 to best traditional breed (Non-Continental).
SP:Crawford Brothers, Maguiresbridge
SP:Connans Farm, Clones
Press Release - 13th May 2010
Clonlara Valance Secures Limousin Championship at Royal Ulster
Female Limousin Champion and Supreme Overall at the 2010 Royal Ulster Show held at Balmoral on Tuesday 12th May 2010 was Clonlara Valance exhibited by Crawford Bros, Maguiresbridge, Co Fermanagh. Progressing from the cow in milk with calf at foot class, this Limousin female went on to take the Female Championship and Supreme Overall under Judge Mr Paul Byas, Middledale Farm, Kilham, Driffield, East Yorkshire.
A very strong line-up of Limousin animals numbering 84 forward represented the largest entry of any beef breed. Clonlara Valance was shown with her Sauvignon-sired calf at foot and was bred by Colin Hogg, Erinagh, Clonlara, Co Clare in the Republic of Ireland.