Rathkeeland British Blues
The Rathkeeland British Blue Herd was founded in 2003 with the purchase of Wilodge Ofleur ET from the herd of DA Williams for 5,000 guineas.
Ofleur was flushed 3 times to Balto De Steinbach, Tonique Et Du Steinbach and Sedvisant De Fooz.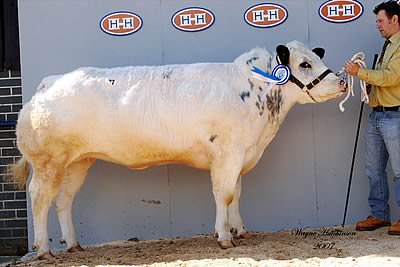 Wilodge Way to Go
British Blue Embryo's are now available from Daffyd D'Ochain X Wilodge Way To Go
Wilodge Way To Go was purchased for 12,000gns at Carlisle in May 2007 she stood Reserve Female Champion on the day.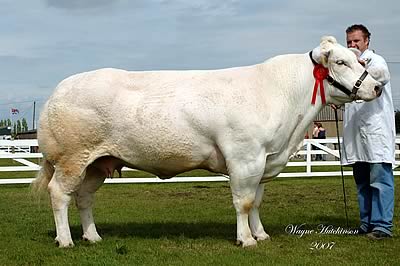 Radieuse
Radieuse was purchased at Carlisle in May 2007 for 30,000gns, being the UK record priced British Blue.
She was 1st in her class at The Royal and Great Yorkshire Shows, and a member of the winning interbreed team of 4 at the Great Yorkshire.
It is hoped that embryo's from Radiuse will be available for sale later this year so don't delay book today.
Ridge Dean Soulbury Princess was purchased for 8,200gns at the 'Wilde about Blues' sale at Carlisle August 2006.
She was an unbeaten British bred junior heifer at RHAS and RWAS and also part of the winning interbreed team at RHAS and part of the reserve interbreed team at RWAS 2002.
In 2004 she had the 3rd highest EBV of the breed. Her progeny have been successfully sold to average £3800.