Curraghree Sensation wins the Ulster Bank / Northern Ireland Shows Association Interbreed Beef Cow of the Year 2009.
For the second year in a row the Crawford Brothers have won this prestige award, females from all breeds have qualified throughout the year for the climax at Enniskillen show on Wednesday 5th August. This accolade ends a very successful year for the Crawford show team.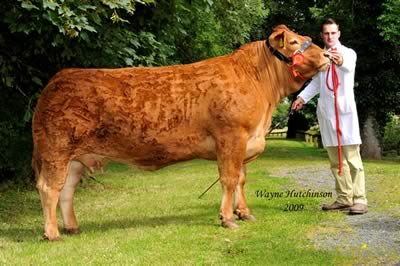 Curraghree Sensation
Curraghree Sensation, an 8 year old cow from the Rathkeeland herd, sired by the famous French bull Geant whose pedigree goes back to Dauphin was widely admired.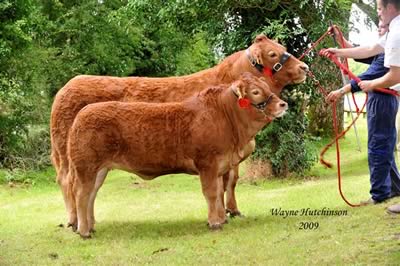 Curraghree Sensation with hr heifer calf
Sensation is no stranger to the show ring, having taken first place at the 2008 Royal Highland show, whilst her daughter took first place in the junior heifer section, This year she took first place at the Royal Ulster Show and again her heifer calf has been unbeaten, clearly as well as a show animal she is a top class breeder.